First #genchat for 2015 – What's new this year ?
There were lots of comments about getting organised and what to cover this year :  –  tips of course, different ways of doing things & also some proposed chats to focus on Genealogy Societies too. Not everyone was planning to follow Thomas Macentee and his suggested "Do-Over" of past research – though some suggested it could be more of a review rather than starting all over on your family history research.
The chat ran from 2.00pm – 3.00pm Sydney time with people participating from the USA and including Judy Webster (aka @JudyQld) from Australia – note  there was a whole lot more than what I have excerpted and pasted below.
So I'm looking forward to the next chat on getting organised – but will have to follow it later as I may be volunteering in the Volunteers Kitchen at the 2015 Illawarra Folk Festival.

_genchatJan 02, 4:17pm via TweetDeck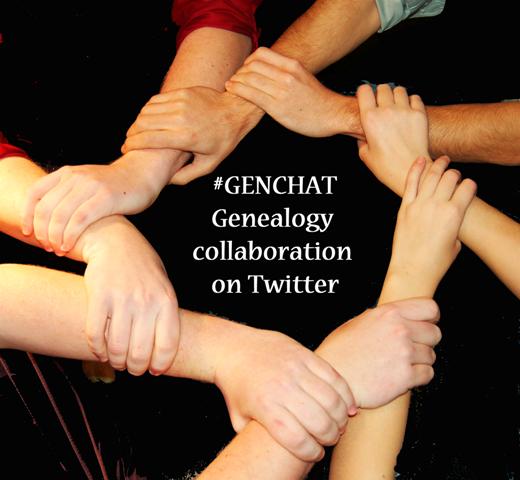 2 retweets

_genchatJan 03, 2:00pm via Nurph

_genchatJan 03, 2:00pm via Nurph

_genchatJan 03, 2:01pm via Nurph

_genchatJan 03, 2:02pm via Nurph
talkingboxgenJan 03, 2:02pm via Nurph

_genchatJan 03, 2:02pm via Nurph

_genchatJan 03, 2:05pm via Nurph
celialewisJan 03, 2:05pm via TweetDeck
SteelyGenesJan 03, 2:06pm via Hootsuite

_genchatJan 03, 2:06pm via Nurph
JudyQldJan 03, 2:06pm via TweetDeck

_genchatJan 03, 2:06pm via Nurph

_genchatJan 03, 2:07pm via Nurph
SteelyGenesJan 03, 2:09pm via Hootsuite
SteelyGenesJan 03, 2:09pm via Hootsuite

_genchatJan 03, 2:09pm via Nurph

_genchatJan 03, 2:10pm via Nurph

GhyxionJan 03, 2:10pm via tchat.io
JudyQldJan 03, 2:12pm via TweetDeck
SteelyGenesJan 03, 2:13pm via Hootsuite

_genchatJan 03, 2:14pm via Nurph

_genchatJan 03, 2:15pm via Nurph

_genchatJan 03, 2:16pm via Nurph

KerrieAnneJan 03, 2:19pm via Hootsuite

_genchatJan 03, 2:19pm via Nurph
geneapleauJan 03, 2:21pm via tchat.io

lamacki88Jan 03, 2:21pm via Twitter for iPhone
1 retweets
SteelyGenesJan 03, 2:23pm via Hootsuite

DanteEubanksJan 03, 2:26pm via Twitter for Android

kidmiffJan 03, 2:27pm via TweetDeck
geneapleauJan 03, 2:27pm via tchat.io

_genchatJan 03, 2:27pm via Nurph

DanteEubanksJan 03, 2:32pm via Twitter for Android

GhyxionJan 03, 2:32pm via tchat.io

_genchatJan 03, 2:33pm via Nurph
kansaswriterJan 03, 2:36pm via TweetDeck

_genchatJan 03, 2:40pm via Nurph

kidmiffJan 03, 2:41pm via TweetDeck

LatvianBlogJan 03, 2:43pm via Twitter for Android

DanteEubanksJan 03, 2:43pm via Twitter for Android

GenealogicalGemJan 03, 2:43pm via TweetDeck
SteelyGenesJan 03, 2:43pm via Hootsuite
MeetyouinOhioJan 03, 2:43pm via Twitter for iPhone
1 retweets

SparrowBeth73Jan 03, 2:43pm via tchat.io
kansaswriterJan 03, 2:43pm via TweetDeck

lamacki88Jan 03, 2:43pm via Twitter for iPhone
JudyQldJan 03, 2:43pm via TweetDeck

DanteEubanksJan 03, 2:44pm via Twitter for Android

DanteEubanksJan 03, 2:44pm via Twitter for Android

kidmiffJan 03, 2:44pm via TweetDeck

ancestryjourneyJan 03, 2:44pm via TweetDeck
kansaswriterJan 03, 2:44pm via TweetDeck
1 retweets

LatvianRootsJan 03, 2:45pm via tchat.io

_genchatJan 03, 2:45pm via Nurph
MeetyouinOhioJan 03, 2:46pm via Twitter for iPhone
kansaswriterJan 03, 2:47pm via TweetDeck
SteelyGenesJan 03, 2:47pm via Hootsuite
geneapleauJan 03, 2:47pm via tchat.io

LatvianRootsJan 03, 2:48pm via tchat.io

brandyheiJan 03, 2:48pm via Twitter Web Client
IrishMasonJan 03, 2:48pm via Nurph

_genchatJan 03, 2:48pm via Nurph
JudyQldJan 03, 2:48pm via TweetDeck

GenealogicalGemJan 03, 2:49pm via TweetDeck
llawson3967Jan 03, 2:49pm via Twitter for iPad

brandyheiJan 03, 2:49pm via Twitter Web Client
_genchat  Maybe we need more open forum chats? I know #IDGchat tried to do brick walls, but not sure if it really worked… ??? #genchat2:48pm, Jan 03 from Nurph
CarolinaGirlGenJan 03, 2:49pm via Nurph
geneapleauJan 03, 2:49pm via tchat.io
IrishMasonJan 03, 2:49pm via Nurph

_genchatJan 03, 2:50pm via Nurph
kmjordan73Jan 03, 2:50pm via Nurph
kansaswriterJan 03, 2:50pm via TweetDeck
leprchaunrabbitJan 03, 2:51pm via TweetChat powered by oneQube
kmjordan73Jan 03, 2:51pm via Nurph

kidmiffJan 03, 2:51pm via TweetDeck
JudyQldJan 03, 2:51pm via TweetDeck
kansaswriterJan 03, 2:51pm via TweetDeck
llawson3967Jan 03, 2:52pm via Twitter for iPad

GenealogicalGemJan 03, 2:52pm via TweetDeck
kmhanksJan 03, 2:52pm via Twubs
talkingboxgenJan 03, 2:53pm via Nurph

SeekingSurnamesJan 03, 2:53pm via Twitter for Android
IrishMasonJan 03, 2:53pm via Nurph
kmjordan73Jan 03, 2:53pm via Nurph

DanteEubanksJan 03, 2:53pm via Twitter for Android
kansaswriterJan 03, 2:54pm via TweetDeck

kidmiffJan 03, 2:54pm via TweetDeck
kansaswriterJan 03, 2:54pm via TweetDeck

genaortegaJan 03, 2:54pm via Twitter Web Client
leprchaunrabbitJan 03, 2:54pm via TweetChat powered by oneQube
kmjordan73Jan 03, 2:55pm via Nurph
1 retweets
IrishMasonJan 03, 2:55pm via Nurph

_genchatJan 03, 2:56pm via Nurph

_genchatJan 03, 2:57pm via Twitter for Websites
SallyOnTheGoJan 03, 2:57pm via TweetCaster for Android

_genchatJan 03, 2:58pm via Nurph

LatvianRootsJan 03, 2:58pm via tchat.io
llawson3967Jan 03, 2:58pm via Twitter for iPad

genaortegaJan 03, 2:58pm via Twitter Web Client

_genchatJan 03, 2:59pm via Nurph

_genchatJan 03, 2:59pm via Nurph
kansaswriterJan 03, 2:59pm via TweetDeck

_genchatJan 03, 3:00pm via Nurph
leprchaunrabbitJan 03, 3:00pm via TweetChat powered by oneQube

DanteEubanksJan 03, 3:01pm via Twitter for Android
leprchaunrabbitJan 03, 3:02pm via TweetChat powered by oneQube

DanteEubanksJan 03, 3:02pm via Twitter for Android